Page 1 of 2
Urology and Nephrology Center in Mansoura is one of the first and largest scientific centers in the Middle East, but is now the largest specialized scientific centers in the fields of artificial kidneys, kidney transplantation and cancerous tumors of urinary tract.
The department is one of the most important sections in the center where it receives patients from the Arab countries. It is also one of the first specialized health institutions to combine the performance of medical, therapeutic, research and educational services in one place.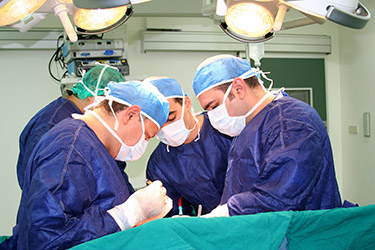 The department provides medical and therapeutic services to patients from all over the world where patients are screened at the outpatient clinic, they are then transferred to the center for operations and treatment. The department also undertakes training courses at the center to train doctors from all over the world to conduct operations and training in the center's Animal House.
The department also trains the doctors from all over the world in the center and also sends the doctors in the center to all over the world for training to exchange experiences.
The most important research areas in the department:
1. In the field of bladder removal and urethra transfer
Urology and Nephrology Center is a leading center in this field. The Center performs bladder and UTI surgery at a rate of 20 monthly surgery, more than 1,500 bladder and urethral surgeries have been performed since the center was established in 1983. The survival rate of the patient is 5 years, more than 40%
2. In the field of kidney transplantation
The first kidney transplant surgery was performed from 1977 until the present year in the department of the university hospital. There were 1500 kidney transplants and the success rate was more than 90% at the end of the first year

3. In the field of binoculars
Endoscopic surgeries are performed in the laparoscopic bladder as well as bladder, ureteral and kidney stones with endoscopy.Laparoscopic renal resection Since 1992, and bladder removal have been performed since 2003

4. In pediatric surgery
There is a full section of Urology in children that has 20 beds and is performed with minor congenital defects (such as urinary incontinence) and even major congenital defects such as the bladder

5. In the field of
Since 1993 till now, about 200 surgical procedures have been performed to correct the incontinence and more than 60 surgical procedures for the repair of congenital urethra in girls. The center has begun to perform surgery to repair the urinary incontinence caused by prostatectomy
6. Dynamic urination module
The unit was established independently in October 1998 and has so far carried out about 21,000 peeing and more than 3500 tests of dynamic intermittent urination
The unit helps diagnose urinary incontinence and functional urination defects as well as the evaluation of urinary tract surgery in men and women
Head of Department
Prof. Mohamed El-saied Dawaba