Page 1 of 2
The unit is accredited by the World Health Organization (WHO), the Middle East Organ Transplantation Society and the American Organ Transplantation Association to train fellows in these two societies.
Dialysis and kidney transplantation unit
Dialysis and kidney transplantation unit offers an integrated and comprehensive service covering all aspects of kidney disease and treatment, including kidney transplants. This unit was opened with the opening of the center in 1983.
The Unit contributes to an effective contribution to the training of medical personnel and medical assistant in addition to the medical services provided by, and conduct research in the field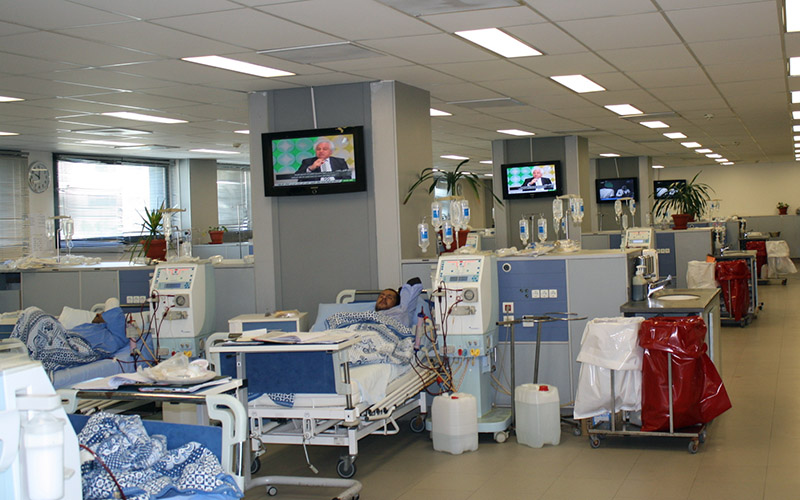 of kidney disease and public health awareness and coordination with other medical sectors in the field of kidney diseases.
Since it opened in 1983 sought unity strives to achieve the goals of providing service at the highest possible levels, and provide a service covering all aspects of kidney disease including kidney transplants.
Dialysis and kidney transplantation unit provides diagnosis and treatment for patients with kidney disease including chronic kidney failure, acute renal nephritis, kidney transplantation, tubal nephritis, nephrotic syndrome, hypertension, nephritis and salinity imbalance. The renal transplant program has achieved a remarkable level of success rates in agriculture and survival of patients (the rate of success has been 95% annually in renal transplantation from live relatives)
Dialysis and kidney transplantation unit follows up over 70 successful pregnancies for women who have already undergone kidney transplants.
The unit as a whole achieved a number of achievements in the field of nephrology . It achieved the first achievements in the field of planting the first kidney from a nearby neighborhood in 1976. Finally, the unit provided more than 400 researches in local and international scientific conferences and published more than 300 researches in prominent local and international journals .
Heamodialysis Unit
The center performs heamodialysis for patient with acute renal failure and chronic renal failure, which are prepared for kidney transplantation.
The unit deals with patients of state expense, armed forces, health insurance, students of universities, companies transferred to the center.
The Unit accommodates 100 patients with 2 sessions throughout the day (at the Cihan Clinics complex).
Head of Department of Nephrology
Prof. Ayman Refaei