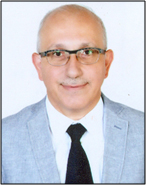 "Something of beauty, order and significance" as asserted by Sir Magdy Yacoub 15 years ago is probably a motto for this hospital.
With a wide range of services in the fields of urology, nephrology and medical research in general, Urology & Nephrology center is a national pride. With over 190 physicians and 635 nurses and almost 1000 technicians and employees serving 270 beds spreading over the main hospital, Minyet Samanoud branch and outpatient building, it is the largest urological facility in the middle-east.
Since 1983, it served as an educational, training and treating facility. In 2017, more than 320000 patients were seen in OPD and 13500 were treated in wards.
Today after more than 35 year in service the center is looking forward to new horizons in clinical service and research models and as ever, this endeavor is relying on the support of Egyptians foremost as well as our patients and friends from all over the world.
Center Manager