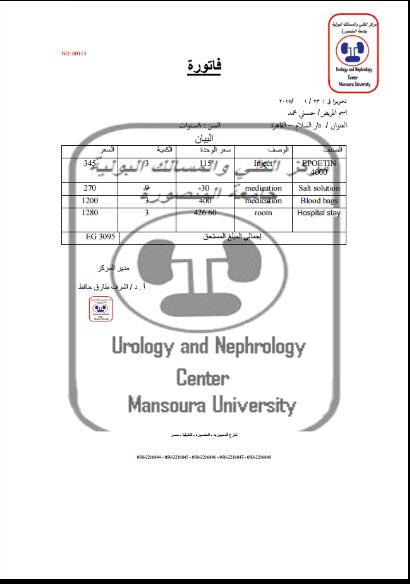 The Center for Nephrology and Urology - Mansoura University offers its services to kidney patients free of charge, without taking any money since the establishment of the center in 1983. In order to provide this free service, the center's management insisted on keeping the price of the clinic ticket by one Egyptian pound.
Nike Phantom Vision DF SG
Basic services for the patient to be revealed by specialized doctors and the work of analysis and radiations and the disbursement of treatment and even enter the center if necessary without taking any additional money.
Therefore, we draw the attention of all associations and charitable organizations that deal with kidney patients not to be deceived by any false bills called the Center for Nephrology and Urology (such as the attached invoice), which resorted to the use of Alfotoshob tricks on the logo of the Center from the Center and stuck with one of the treatment bills and submitted to one Charitable societies in Cairo to spend their value and therefore calls for the management of the Center all the associations and charities need to send such invoices to the management of the Center to take legal action against their owners